Everyone's favorite season is finally here – music festival season!
While the main point of any music festival is obviously the music, fashion plays a crucial role in any festival experience. It is important that you look your best in order to feel your best at any festival. Below are our top 7 favorite looks –
1. Boho Look
Channel your inner hippie with a bohemian look. This down-to-earth look will keep you comfortable but still leave you looking angelic. Stick to light, natural colors, throw some messy waves in your hair, and add a fun pair of sunnies and you're all set!
---
2. Fringe
Looking for something simple but still want to stand out? Add some fringe! Switch things up with either black or tan leather. You can rock fringe in so many ways- vests, boots, belts, etc.
---
3.  All Black
Look like the powerful woman you are in an all black ensemble. Feel free to accessorize with as many gold or silver pieces as needed, but keep the fashion to one shade of black. Throw some glitter in your hair and you're good to go. An all black look is a modern take on a classic festival look.
---
4.  Butterfly Inspo
Trying to stand out as much as you can at your fav festival? Get creative and do something crazy- like dressing up as a butterfly! Find a top with large belled sleeves that can act as your wings, cover yourself in glitter and gemstones and you've just channeled your inner butterfly! Take about a jaw-dropping look.
---
5.  Stars
Connect to the wonderful universe around you in a star-covered outfit. You can put stars anywhere, from glitter on your face to a fun print on your shirt- the possibilities are endless.
---
6.  Nude Toned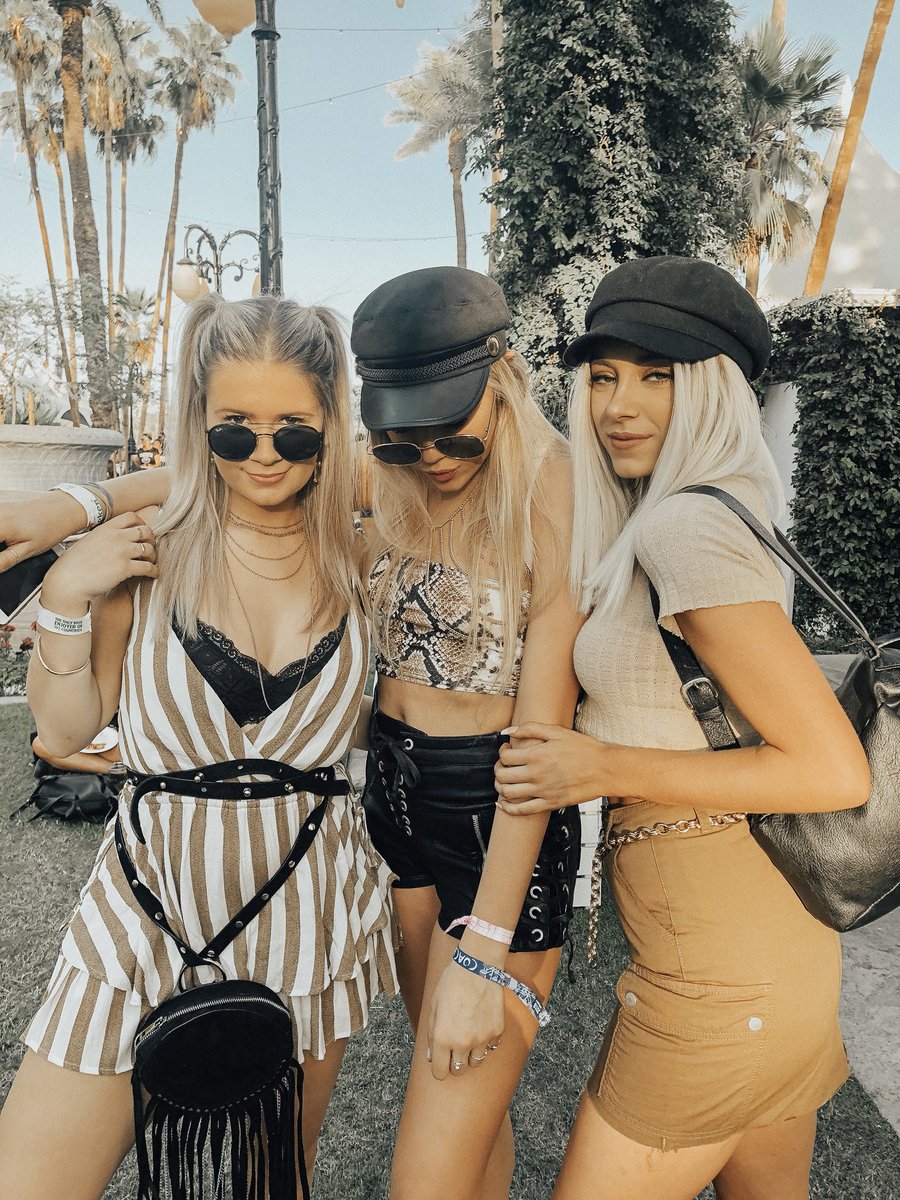 Keep your look simple by sticking to nude tones. Pair nude colored clothing with fun accessories or statement booties and you'll have a stunning look. It keeps you looking put together and looking great without doing anything over the top.
---
7.  Bandanna
The dust in the dessert gets pretty intense and the last thing you want is it flying into your mouth. Rock a bandanna that's tied around either your neck or head that you can easily use to cover your mouth for any sandstorms. Both practical and stylish!
---
Whatever look you end up rocking at your favorite music festival, make sure its easy to dance in! Festival fashion is a fast paced world where styles change quickly, but these looks are sure to never go out of style.